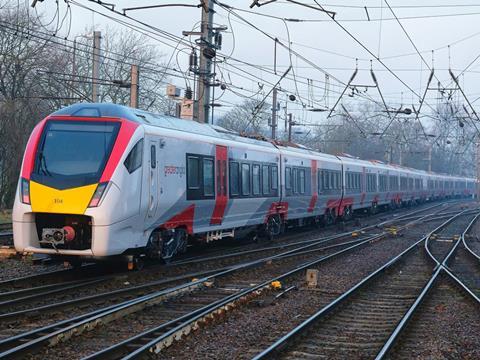 UK: Stadler is moving forward with its four UK projects, the company told Railway Gazette at Railtex.
The company expects to complete deliveries of the Greater Anglia fleet by the end of the year, having recently delivered the first of 10 EMUs for use on Stansted Express services. Stadler's first order for UK main line rolling stock also includes 10 inter-city EMUs and 38 electro-diesel units for regional services. As part of its contract, Stadler will take over depot staff from Greater Anglia.
The first of 52 EMUs that Stadler is building for the Merseyrail network serving Liverpool is nearing completion, and is expected to be delivered to Wildenrath for dynamic testing in the next few months. These will be maintained at a depot that Stadler is building at Kirkdale depot, which is now close to completion.
The first of 17 driverless metro trainsets that the Swiss manufacturer is supplying for the Glasgow Subway recently arrived in the city, with two more due by the end of the summer. These are expected to enter service from next year.
Stadler's other UK project is for Wales & Borders services, where it is supplying 36 Citylink tram-train vehicles for use on South Wales Metro services, 11 Flirt DMUs and 24 tri-mode units capable of running on diesel, 25 kV 50 Hz overhead electric and battery power.