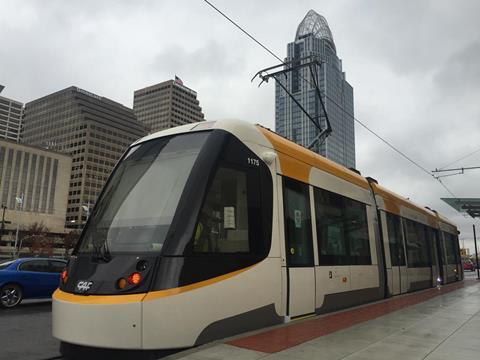 USA: Seattle Department of Transport has awarded CAF a contract to supply 10 three-section 100% low-floor Urbos trams.
Announced on October 2, the contract is worth in excess of $50m including spare parts, tools and testing equipment. SDOT has an option for up to 10 more vehicles. The bi-directional cars will be equipped with CAF Power & Automation's Onboard Energy Storage System for use on catenary-free sections of the network.
The new cars are being ordered to operate the 1·9 km Center City Connector, on which construction is expected to start this month. Scheduled to open in 2020, the $177m line is intended to connect the city's two isolated streetcar lines. Starting from a junction with the South Lake Union Streetcar at McGraw Square, it will run along Stewart Street and First Avenue to meet the First Hill line at Pioneer Square in the city's International District. Streetcars would operate every 5 min on the central section compared with every 10 min on the existing lines.
According to SDOT Director of Transit & Mobility, Andrew Glass Hastings, 'there's a huge amount of ridership in South Lake Union that wants to take the streetcar beyond where it ends today. They want to go to Pike Place, they want to go to the ferry dock or Pioneer Square or the stadiums.'