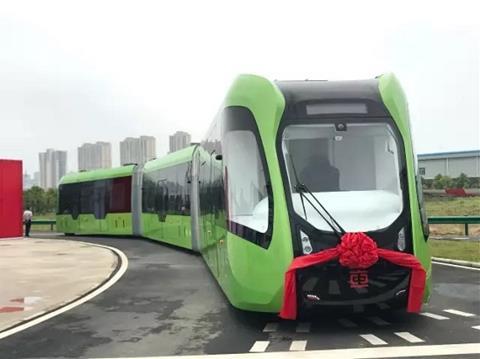 CHINA: CRRC Zhuzhou unveiled its Autonomous Rail Rapid Transit vehicle in Zhuzhou on June 2. The articulated electric bus has the same dimensions as a tram, but runs on the road using rubber tyres.
Described by the manufacturer as a 'railless train', the three-section articulated vehicle is 31·6 m long, 2 650 mm wide and 3·4 m high, with capacity for 300 passengers.
The bidirectional vehicle has sensors that can keep it on in its own lane on the road and help it to plan diversions in case of traffic disruption.
According to CRRC, onboard energy storage allows the vehicle to travel up to 40 km on a full charge. It has a maximum speed of 70 km/h.
The ART is aimed at small and medium cities as a cheaper alternative to rail-based public transport. A 6·5 km demonstration route in Zhuzhou is due to open next year.