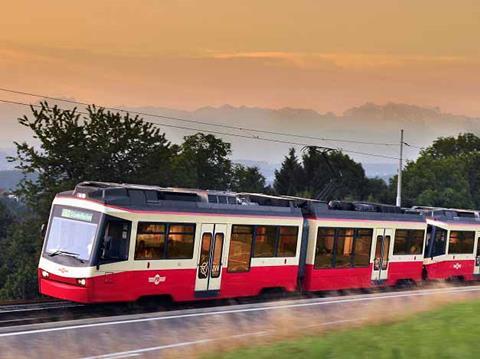 SWITZERLAND: Metre-gauge interurban operator Forchbahn has awarded Stadler Rail a contract to modernise its 13 type Be 4/6 electric multiple-units, with Voith to supply new traction inverters.
The custom-designed metre-gauge vehicles supplied by Stadler in 2004 operate using 600 V DC overhead on the Zürich tram network, and at 1·2 kV DC on the interurban section of the railway.
The modernisation is scheduled to get underway in September 2019 and be completed in mid-2024, with the aim of ensuring that the trains can continue operating until 2037.
The two existing traction inverters will be replaced with Voith's EmCon I1000-9AR inverters in the first order for traction inverters which Voith has received from Stadler and its first in Switzerland. The vehicle interiors will also be improved.