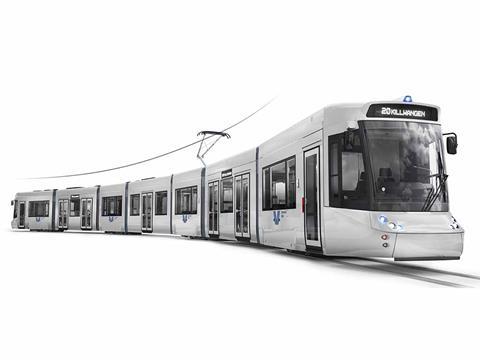 SWITZERLAND: Aargau Verkehr has selected Stadler to supply eight Tramlink light rail vehicles for the Limmattalbahn line being developed to the west of Zürich.
Aargau Verkehr is ordering the vehicles under a joint procurement with Baselland Transport, which is to receive 10 for the Waldenburgerbahn line. Aargau Verkehr says that the joint procurement will result in savings of SFr4·2m, for its order worth SFr43m. The contract is expected to be signed in late 2019.
Stadler will supply the LRVs from its Valencia factory ahead of their entry into service in December 2022. The 100% low-floor bidirectional seven-section LRVs will be 44·3 m long and 2 400 mm wide with capacity for 260 passengers including 88 seated; there will also be 16 tip-up seats.
Each of the seven doors per side would have large circulation areas for fast boarding and alighting. The air-conditioned vehicles would be equipped with a passenger information system and have a top speed of 80 km/h. Each LRV would weigh 55·2 tonnes.
A groundbreaking ceremony for the metre-gauge Limmattalbahn took place on August 28 2017. The first phase is due to open between Altstetten in Zürich and Geissweid in Schlieren to the west of the city at the end of 2019. Once complete in 2022, the entire 13·4 km route with 27 stops would reach Killwangen-Spreitenbach.
The new line is being developed by Limmattalbahn AG, which is jointly owned by the cantons of Zürich and Aargau. The two cantons are financing the project, and BDWM Transport will operate the line for the first 10 years.