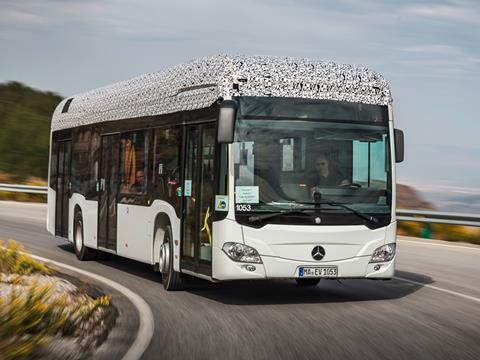 GERMANY: Rhein-Neckar transport authority RNV and Daimler subsidiary EvoBus have signed a memorandum of understanding for the supply of an unspecified number of electric buses. Daimler says that this will make RNV the launch customer for the new Mercedes-Benz Citaro electric bus.
As part of the agreement, the operator and supplier would exchange information about the performance of the buses in regular passenger operation.
The first vehicles are to be delivered at the end of 2018 from the EvoBus factory in Mannheim. Prototypes are currently undergoing tests, which include winter testing in the Arctic Circle and summer testing in the Sierra Nevada region of Spain.
The buses will be fitted with lithium ion batteries that can be recharged at the depot using plug-in charging or along the route using opportunity charging.