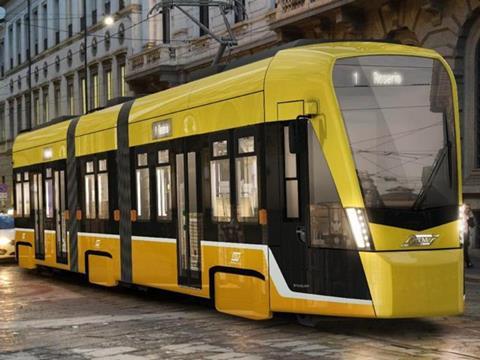 ITALY: Stadler Rail Valencia has been announced as low bidder for a contract to supply a new generation of 1 445 mm gauge trams to Milano public transport operator ATM. Formal contract award is expected to follow legal scrutiny of the tenders.
Bids were opened on February 5 for a six-year framework agreement covering the supply of up to 80 vehicles at an estimated cost of €213m. The package covers 50 cars for the urban network and 30 to work the two interurban routes to Desio and Limbiate which are currently being refurbished. An initial build of 30 trams is expected to be called off immediately, with deliveries starting two years after contract signing.
Designated Tramlink S3 Leo, the three-section vehicles would be around 25 m long, with a low-floor centre section, providing 22 fixed and 44 folding seats. There would be six sets of doors and wide gangways to facilitate rapid boarding and alighting. Unlike the majority of ATM's existing trams, the new vehicles would be bidirectional, avoiding the need to provide turning loops at the terminus of every route.
Pointing out that many of the existing trams were now obsolete and it was no longer cost-effective to keep life-extending them, ATM President Luca Bianchi said the new trams would be more efficient to operate, thanks to modern controls and energy recovery technology. He added that the Tramlink S3 Leo would also have comprehensive safety and security features, including anti-collision systems and on-board CCTV cameras, as well as a comprehensive passenger information system.