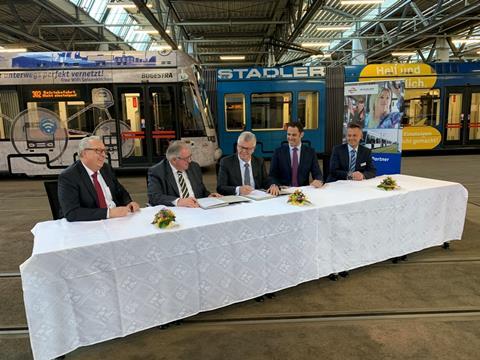 GERMANY: Bochum-Gelsenkirchen transport operator Bogestra has signed a contract with Stadler for the supply of six light rail vehicles for use on Route U35 in Bochum. The contract, announced by Stadler on April 2, also covers modernisation of Bogestra's existing fleet of 25 B80D LRVs supplied by Düwag in the late 1980s and early 1990s.
The 28 m long bidirectional three-section vehicles from Stadler's Tango family will have capacity for 172 passengers including 66 seated. The high-floor LRVs will have four doors per side and multi-function areas. They will be equipped with passenger information displays, USB sockets and wi-fi.
The Tangos are due to enter service in early 2021. Once they are in operation, Stadler will begin work on overhauling and modernising the B80D vehicles.
The latest order brings the total number of Stadler vehicles in Bogestra's fleet to 99. Bogestra placed its first order with Stadler in 2004, comprising six high-floor Tangos and 30 low-floor Variobahn trams. This was followed by 15 more Variobahns, ordered as an option on the original contract. In 2015 42 more Variobahn trams were ordered.