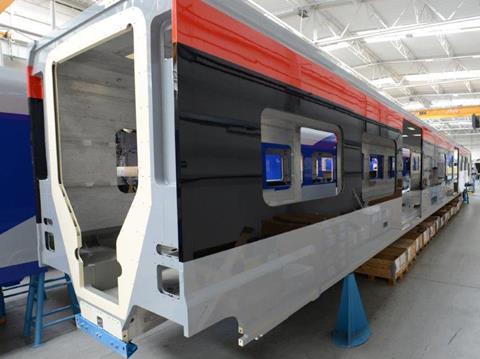 POLAND: Łódź suburban rail operator Łódzka Kolej Aglomeracyjna has signed an agreement with Stadler Polska to lengthen 10 of its Flirt electric multiple-units. The 68·5m złoty contract announced on April 2 includes an extension of Stadler's maintenance activities until 2029.
Each of the two-car EMUs will gain a 16 m long centre car with two double doors, which would take the length of the train to 64 m. The centre cars would have 66 seats, taking the total seating capacity to 186 passengers.
The work is being carried out in response to growing passenger numbers. In 2018 ŁKA carried 22% more passengers than in the previous year, and further ridership growth is forecast. Currently around 16 000 passengers-journeys a day are made on the network.
According to ŁKA, lengthening the existing units, which entered service in 2014-15, is cheaper than buying new rolling stock. Łódzkie voivodship is providing 47·5m złoty towards the cost of the work under an agreement signed last month.
The first unit will go to Stadler's Siedlce factory in May 2020 and is scheduled to re-enter passenger service in the second quarter of 2021. The remaining units are to be lengthened one at a time until the start of 2022.