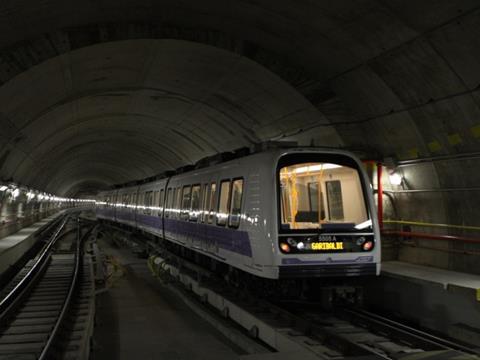 ITALY: State railway holding FS Group Chief Executive Gianfranco Battisti unveiled an 'unprecedented' spending programme on May 10, with €58bn to be invested across various modes in 2019-23.
A total of €28bn is to be spent on rail infrastructure and €14bn on the strategic road network through FS Group's ANAS subsidiary, reflecting its intention to become the largest single investor in Italian infrastructure.
While the main focus is on enhancing the country's conventional rail network and improving suburban passenger services, a number of urban transport initiatives are included, including €2bn towards metro development.
FS Group says that urban rail transport will be 'reshaped' with regular frequencies on different types of services: 8 min for peak-hour urban rail services, 15 min for airport rail links, 30 min for suburban services and 60 min for regional services.
The purchase of more than 500 zero-emission buses is planned, along with around twice as many diesel buses. The €12bn investment in vehicle procurement also includes 600 suburban and regional trains, with 239 of these to arrive before 2023.
FS Group plans to invest a total of €5·3bn, with an asset value of €1·9bn, in urban regeneration, which includes improving urban transport and railway hubs.
Customer service and security is to be improved through the recruitment of 800 more employees. New initiatives would include call centres, chatbots, simplified and immediate refunds, and other digital services. FS hopes to attract an extra 20 million foreign tourists through measures such as these, as well as through better multi-channel distribution of tickets.
International expansion
The group is to establish three 'centres of excellence' to support investment in advanced technology and digitalisation, and its wider corporate goals. These will be known as FS Technology, FS International and FS Security.
A new subsidiary is to be established for expansion outside Europe. FS reaffirmed its commitment to international growth, setting a revenue target of €2·3bn by 2023. This would come from offering 'development, management and maintenance services' for urban transport networks, railways and logistics, including specialist consultancy and staff training.
FS was already focusing on becoming a 'European mobility group' after it signed a co-operation agreement with investment bank CDP in 2017 to develop urban rail networks. In June 2017 it finalised the acquisition of a 36·7% stake in Milano metro Line 5 concessionaire Metro 5 SpA, and in March 2018 it signed an agreement with Brescia Mobilità for the construction of two tram lines in Brescia. In June 2018, FS launched the Nugo nationwide multimodal transport planning app, which enables users to plan a door-to-door journey throughout the country and buy one ticket to cover all the required modes.