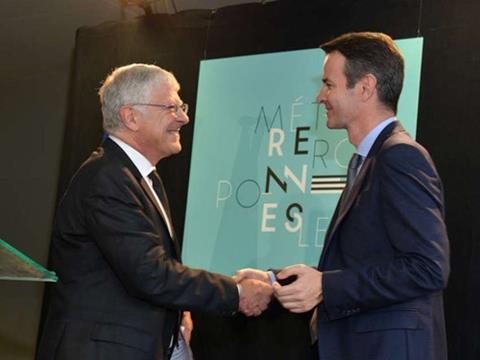 FRANCE: On November 13 state-owned investment bank Caisse des Dépôts signed an agreement with the greater Rennes authority to lend €100m towards the construction of metro Line B. The European Investment Bank is already lending €300m towards the project.
According to Caisse des Dépôts, Line B is one of the largest public works projects currently underway in France, involving total investment of €1⋅2bn and due to open around 2019. Running for 13⋅8 km and serving 15 stations, it is expected to be used by 110 000 passengers a day.
Construction involves digging an 8 km section through rock as well as building underground stations that will use geothermal energy. Project management of tunnelling works is being undertaken by Caisse des Dépôts subsidiary Egis Rail.
Group CEO Pierre-René Lamas said that Caisse des Dépôts was proud to be involved in this major project which would make Rennes 'even more dynamic, attractive and competitive'. It would be 'a vector for economic and social development, while at the same time making life easier for residents', he added.