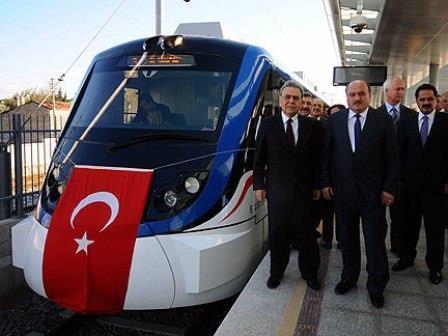 TURKEY: The start of trial services on the 58 km suburban line from Alsançak to Aliaga on October 29 marked the completion of a project to develop the 80 km Aliaga–Menderes commuter network in Izmir. The project involves reconstructing two existing railway lines and launching suburban services to connect urban developments north and south of the city centre.

The northern route has 21 stations and runs from the central terminus at Alsançak to Aliaga via Halkapınar, Karșiyaka and Menemen. There is an interchange to Izmir metro at Halkapınar. A depot and workshop has been built at Çiğli.

The 22 km southern line from Alsançak to Cumaovası was inaugurated by Turkish Minister of Transport Binali Yıldırım on August 30, following two months of trial running. The southern route has 11 stations, including a stop at Havaalani Airport, and a depot at Cumaovası. The network's control centre is located at Alsançak.

The reconstruction project was undertaken by Izban, a 50-50 joint venture of state railway TCDD and Izmir Metropolitan Municipality. Work included construction of new stations, electrification, and installation of signalling and telecommunications equipment supplied by Marubeni, Nippon Signal and Simko.

Commuter services are worked by 33 three-car air-conditioned EMUs supplied by CAF. The trains can carry 741 passengers, including 158 seated, and are equipped with passenger information systems, video entertainment and CCTV.

The network is expected to handle 550 000 passengers a day.