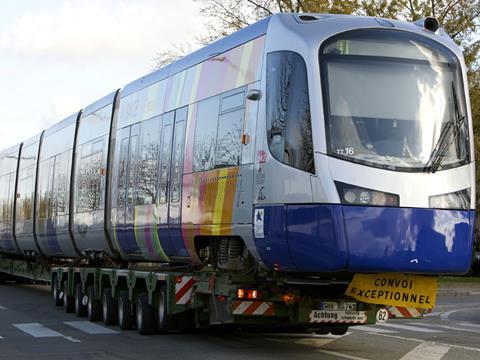 FRANCE: The first Siemens Avanto tram-train for the Vallée de la Thur line is to be displayed to the public in the Place de la Gare in Mulhouse from December 3-6.
The LRV is the first of 12 ordered to operate tram-trains between Mulhouse and Thann Saint-Jacques. Similar to the vehicles currently operating the T4 route in eastern Paris, the Avantos have Siemens traction equipment, but they are being assembled in France at the Lohr Industrie factory in Duppigheim.
The first car was delivered to Mulhouse tram operator Soléa's depot on November 6 from the Wildenrath test centre in Germany. Night testing on the city's tram network began on November 23 and is expected to continue until January 15. The first tests on the RFF network will begin on April 1 2010 ahead of the planned launch of revenue services the following December.
A 20 min interval service is planned over the 20 km route between Mulhouse's main station and Thann, complementing the existing TER trains to Kruth. Starting at the main station, tram-trains will follow tram routes 1 and 2 to reach Rond-Point Strecker before sharing the RFF alignment to Lutterbach on 4 km of new track. From there, they will use the existing line to Thann.
The Alsace Region and Mulhouse Transport Authority Sitram are collectively funding 70% of the initial investment and underwriting all the project's operating costs. The service will be jointly operated by SNCF and Soléa.