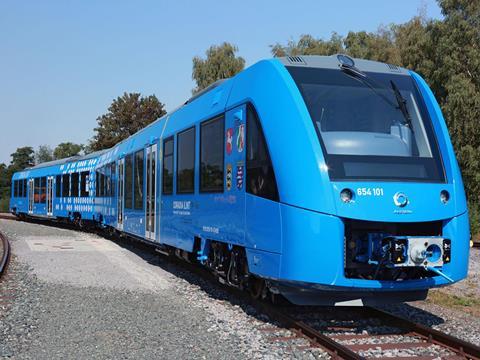 EUROPE: Alstom has completed the first dynamic tests of its Coradia iLint fuel cell multiple-unit. In trials undertaken on the test track at Alstom's Salzgitter factory in Germany where it was built, the Coradia iLint has achieved running speeds of up to 80 km/h, the company reports.
Alstom has produced two pre-production iLint trainsets where hydrogen fuel cells replace the diesel powertrains used in a conventional Lint 54 DMU. Throughout the rest of the year the iLint trains will undergo more rigorous testing at Salzgitter and at up to the trains' approved maximum speed of 140 km/h at the Velim test ring in the Czech Republic.

Type approval from Germany's Federal Railway Office is expected by the end of 2017, enabling the start of trial running in revenue service with Verkehrsbetriebe Elbe-Weser on the Bremerhaven – Cuxhaven/Buxtehude route from early 2018.

The fuel cell development programme is being undertaken in partnership with Germany's Ministry of Transport & Digital Infrastructure. Alstom has signed letters of intent with four regional transport authorities for the procurement of an initial batch of 60 trains for non-electrified regional routes.

The fuel cell trainsets have the same bodies, bogies and drive equipment as the conventional diesels, and the two units will directly replace two diesel units to provide a real-world comparison of performance. The hydrogen tanks and fuel cells are mounted on the car roofs, with the tanks carrying 94 kg of hydrogen per car. The fuel cells were supplied by Hydrogenics, and are linked to lithium ion batteries from Akasol. These can store regenerated energy under braking.

Alstom says that the demonstrator has completed the static commissioning process, and its electrical and pneumatic performance has been verified. TÜV Süd has certified the safety of the battery, pressure tank system and the fuel cell assembly.

Under Germany's current power generation mix, the methods used to produce hydrogen for fuel cell applications would not offer a significant advantage over diesel traction in environmental terms. However, Alstom says it intends to support the use of wind power for hydrogen production in future.

The company is also planning to offer fuel cell trainsets to other international markets with a high proportion of non-electrified railway. A variant meeting the more confined UK loading gauge could be offered from 2021, it says.
A consortium of Hitachi Rail Europe, the University of Birmingham and Fuel Cell Systems Ltd has undertaken a modelling exercise assessing how fuel cells could be used to repower existing diesel multiple-units in the UK. The model showed potential for a reduction in energy consumption of up to 52% on the Norwich – Sheringham line, currently operated by Class 156 DMUs.
A technical description of the Coradia iLint project appears in the March 2017 issue of Railway Gazette International, available to subscribers via our digital archive.