Additive manufacturing is emerging as a commercially viable option for producing components for transport applications, with CAF among the suppliers embracing the technology.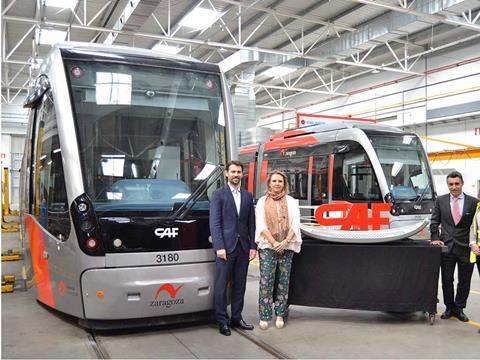 Additive manufacturing, or 3D printing, is becoming common in many industrial applications, and rolling stock production is no exception. As in other industries, new possibilities are being explored as the still relatively novel technology becomes more familiar.
A move towards more ambitious projects can be seen in the front-end of an Urbos tram presented at Tranvía de Zaragoza's depot on October 24. This was 3D printed by CAF subsidiary RL Components, and developed in partnership with CAF Digital & Design Solutions.
While additive manufacturing is not new to CAF, the front-end is symbolic of the shift from using the process for small components to larger parts. Since September 2016, CAF has produced around 2 400 3D printed parts for use in its rolling stock. RL Components makes spare parts in this way, but these now form a smaller share of 3D printed components than finished parts, which are developed during the product design phase.
Smaller components include cup holders, radio brackets, window frames, wiper covers and door supports. The larger parts, of 1 to 2 m, include external components made from materials that comply with EN 45545 fire safety standards. Components made in this way are found in a range of CAF rolling stock, including trams for Newcastle in Australia and Saint-Etienne, light rail vehicles for Maryland's Purple Line, Mexico City metro trains, and the Civity multiple-units being supplied to UK main line operator Northern.
Parts for new vehicles are 3D printed at CAF Digital & Design Solutions in Linares in southern Spain. This facility has one HP Multi Jet Fusion printer that uses PA12 plastic. CAF also works with other partners, such as Tumaker and CNC Barcenas, that use large-format fused deposit modelling. After-sales parts are generally assembled and mounted at the respective operators' facilities.
The introduction of 3D printing has led to some modifications of components, particularly in terms of materials and geometry. For instance, the train door support is a full replacement for a traditionally produced metallic part, and the plastic used in its manufacture has been strengthened.
A digital transformation
CAF's Head of Development & Strategy Jose Francisco Molinero Reyes says that although there is no 'conclusive data' on the overall cost savings brought about by 3D printing, in some cases this could amount to 50% compared with traditional manufacturing methods.
A more important benefit, he says, comes from the shorter time to market, which can be reduced to a few weeks. For the cup holder, the time has been reduced from one month to one week. Furthermore, smaller production runs are possible.
Other important benefits include the ability to design and manufacture parts with different dimensions without the need for moulds. This allows modifications to be accommodated in the manufacturing process in real time.
The disadvantages generally stem from 3D printing still being a relatively new technology. For example, 3D printed parts are still limited in their size, and changes to some designs are needed in order to print the parts in the optimum way.
However, Molinero Reyes sees 3D printing as part of the digitisation of manufacturing that will continue as a trend across the industry. Manufacturing at CAF is undergoing a 'complete digital transformation' which presents an opportunity to change the design process, enabling engineers and designers to work together more closely. Looking ahead, if the price of 3D printing of metal becomes more competitive, this could open up further commercial and technological opportunities.