The SmartTransit conference, organised by SmartRail World, is taking place on October 28-30 in Los Angeles.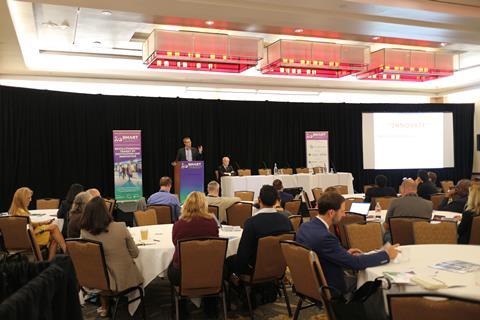 Photo: Dave Lustig
A visit to the Los Angeles Metro Regional Connector Transit project kicked off the Smart Transit conference on October 28.
Visitors had the opportunity to view construction progress of an underground station at the corner of 1st Street and Central Avenue, and hear from project staff on the engineering challenges of working in a dense, urban environment. Due to open in 2022, the cross-town link between the Gold and Blue light rail lines is expected to increase ridership by 17 000 passengers a day.
'There is a huge amount of excitement in Los Angeles', says Conference Producer Craig Simpson, pointing to the 2028 Olympic & Paralympic Games as a driver for transport projects. 'We will get a great insight into the preparations of LA Metro as well as the latest on their Blue Line.'
Delegates also have the chance to hear LA Metro's Chief Innovation Officer Joshua Schank talk about the strategies and techniques being implemented to improve operations.
Digitalisation in focus
During the three-day event, speakers are focusing on how technology is integral to delivering a safe, reliable, cost-effective and sustainable public transport network.
'Digitalisation offers a range of new opportunities for operators and infrastructure managers, with state-of-the-art communications systems and technologies allowing operators to provide service at a completely different level to that seen just a few years ago', says SmartRail Head of Marketing Stephen Scott.
Conference sessions cover topics including the business case for investing in innovation and new technology, as well as financing strategies for digitalising transport. On the technologies themselves, speakers focus on the benefits and risks of increased digitalisation, including the growing threat of cyberattacks and how operators can adapt to mitigate these risks.