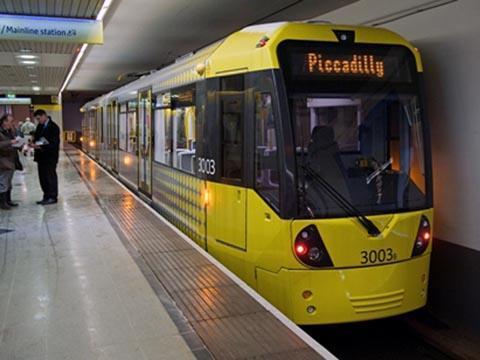 UK: Transport Minister Sadiq Khan announced the government's final approval of £121m of funding for two Phase 3b extensions to the Manchester Metrolink light rail network on March 8. Local sources will provide the remaining £49m of the antitipated £170m cost.
According to Greater Manchester Passenger Transport Executive, the work will be undertaken by the M-Pact Thales consortium of Laing O'Rourke, GrantRail and Thales as an option on the existing contract for Phase 3a. Main construction is expected to begin in early 2011.
The deal also includes an additional six M5000 trams from Bombardier and Vossloh Kiepe, which are supplying 40 vehicles for the existing network and the Phase 3a extensions.
The 4·5 km five-stop Chorlton-cum-Hardy – East Didsbury extension will use a segregated former railway alignment and is now expected to open in summer 2013. The 3·9 km four-stop Ashton-under-Lyne extension of a line already under construction as far as Droylsden will open in winter 2013-14. This will run on-street to Audenshaw, and then follow a segregated alignment to reach a bus-tram interchange in Ashton town centre. There will be park-and-ride sites for more than 600 cars.
The latest announcements follow the start of work on the Phase 3a extensions, which include conversion of the Oldham Loop railway between Dean Lane and Rochdale to light rail and the construction of a Metrolink branch from Trafford Bar to Chorlton-cum-Hardy using a former rail alignment (RG 8.09 p33).
Khan also announced additional funding which will allow the DMUs previously used to operate the Oldham Loop to be redeployed to lengthen 15 peak-hour services per day in the northwest and on the route between Leeds and Huddersfield.