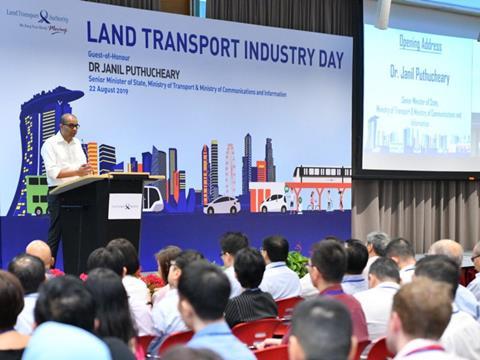 SINGAPORE: Land Transport Authority and operators SBS Transit and SMRT have announced the winners of the Singapore Mobility Challenge.
The project, launched in June, aims to develop 'innovative ideas' that would help to achieve three aims of the Land Transport Master Plan 2040: '20-Minute Towns & a 45-Minute City', 'Transport for All' and 'Healthy Lives, Safer Journeys'.
A total of 112 submissions were received from companies in 21 countries, of which six were shortlisted. The six shortlisted companies had the opportunity to work with the transport authority or an operator to develop their proposals further, and three eventual winners were chosen.
The first prize is worth S$15 000, with the runner-up receiving S$10 000 and the third-placed proposal S$5 000. Each of the three winners also received S$12 000 of Microsoft Azure Credits.
The first prize went to Singapore-based Azendian for its idea of using data analytics to analyse and 'intelligently' assign staff to train and bus operations and maintenance.
The runner-up was Israeli company Silentium, which proposed sampling noise from Singapore's light metros and then using predictive cancelling waves to reduce noise levels.
Third prize went to Carmen Automotive. The Singapore-based company has developed a predictive decision support system for condition monitoring using vehicles' operating data.
The other shortlisted projects were ABEJA's train fault prediction, Advanced Vision Analytics' bus stop crowd detection and UVeye's automatic inspection of bus tyres.
Under a separate project, LTA and government agency Enterprise Singapore are working together to support SMEs in the development of projects to solve nine transport problems identified under the Gov-PACT programme.