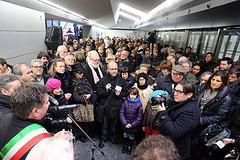 ITALY: Linking Prealpino in the north of the city with S. Eufemia Buffalora in the southeast, the 13·7 km Brescia metro opened to the public on March 2 with a weekend of free travel.
The automated metro has been built by a consortium of Ansaldo STS (railway systems, train control, power supply), AnsaldoBreda (rolling stock) and Astaldi (civil works) under a €575m turnkey contract awarded in April 2003. The Brescia metro uses from the driverless technology deployed by the Ansaldo-led consortium for the first phase of the København metro, opened in 2002.
The Brescia metro serves 17 stations, of which 13 are underground, two at grade and two elevated. Several of the sub-surface stations feature a 'gallery' design to allow daylight to reach the platform level. All the stations feature Knorr-Bremse platform screen doors and overhead shelters to protect the running lines.
Interchange is provided with main line rail services at Stazione FS; Vittoria station is located in the heart of the city centre close to retail and commercial districts. Of the 13·7 km route length, 6 km is in twin-bore tunnel excavated by tunnel boring machine, a further 4·7 km is in a covered trench, 1·3 km is at grade and 1·7 km is on viaduct.
AnsaldoBreda has supplied 18 three-car articulated trainsets based on the design used in København. At 2 650 mm wide, each trainset has capacity for 300 passengers, with 72 seated.
The metro is operated by local transport authority Brescia Mobilitá using the Metrobus brand; service intervals vary from 6 min during the morning peak period to 10 min in the evenings and on Sundays.

The project was described in detail in the April 2008 issue of Railway Gazette International, available to subscribers via our digital archive.