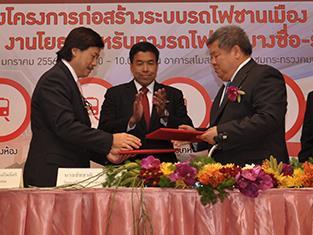 THAILAND: Two contracts for construction of the Bang Sue - Rangsit second phase of Bangkok's Red Line suburban railway project have been awarded by State Railway of Thailand, and a third contract covering railway systems and rolling stock is planned.
Infrastructure contractor Italian-Thai Development signed a 21·24bn baht contract on January 31 covering construction of 20·2 km of railway above the existing SRT alignment, six elevated stations at Bang Khen, Thung Song Hong, Lak Si, Kan Kheha, Don Muang and Rangsit, and associated road and drainage works. Completion is envisaged within 48 months.
ITD is to inspect the concrete support structures built for the abortive Hopewell scheme of the 1990s with a view to reusing some, but most are to be removed.
Provision is to be made for future stations at Wat Samian Nari and Lak Hokm, and SRT has an option for these to be completed at a favourable price as part of the phase two package.
On January 18 SRT awarded a 60:40 joint venture of Sino-Thai Engineering & Construction and Unique Engineering & Construction a 28·8bn baht contract to build the Bang Sue Grand Station which will provide an interchange between the Red Line and other services, along with 6·2 km of elevated railway, a station at Chatuchak and depot and stabling facilities.
SRT opened the 15·3 km first phase of the metre-gauge Red Line last year, with a diesel multiple-unit shuttle service linking Taling Chan and Bang Sue.