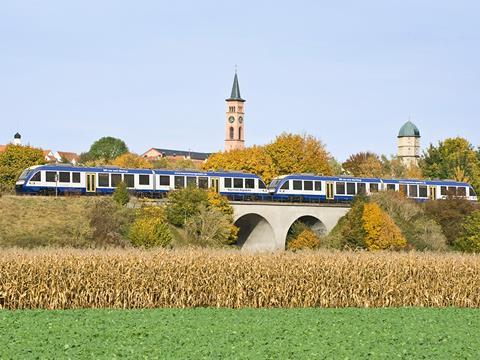 GERMANY: Bayern railway authority BEG has announced its intention to award incumbent Transdev subsidiary Bayerische Regiobahn a contract to continue operating Dieselnetz Augsburg II passenger services from the end of the current contract in December 2019 until December 2021.
The contract covers the operation of 3 million train-km/year using Alstom Lint 41 diesel multiple-units on the Augsburg – Geltendorf – Weilheim, Weilheim – Schongau, Augsburg – Ingolstadt and Eichstätt Bahnhof – Eichstätt Stadt routes.
The transitional contract will enable BEG to run the procurement process for the future Augsburger Netze contract, which was expected to have come into force in December 2019 but has now been put back by two years to align with the Stuttgart 21 and Stuttgart – Ulm construction projects.