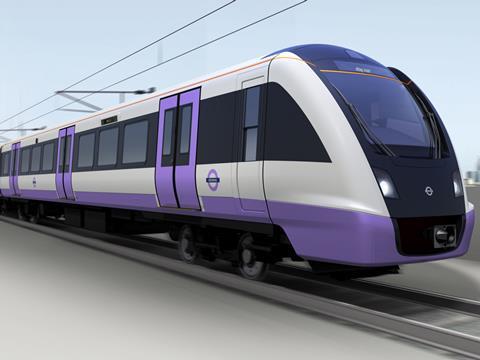 UK: Bombardier Transportation has beaten bids from Hitachi and CAF to be selected for the contract to supply and maintain trains and a depot for London's Crossrail project, the Department for Transport and Transport for London announced on February 6.
With a capital value of £1bn, the 32-year contract is to be signed following the 10-day standstill period required by European procurement rules.
Crossrail Class 345
Bombardier's Derby plant will produce the 65 nine-car 25 kV 50 Hz electric multiple-units, branded Aventra by Bombardier and allocated Class 345 in the national numbering system. There is an option for a further 18 trainsets.
Crossrail Ltd has previous said that 'a revolutionary new train design is not required', and it is seeking a fleet 'based upon technology already developed by the worldwide rolling stock market for deployment on other railways'.
The high capacity air-conditioned trainsets from Bombardier will be 200 m long and able to carry up to 1 500 passengers, with wide gangways and real-time travel information. There will be 'an emphasis on energy efficiency and use of intelligent on-train energy management systems', according to DfT.
Dr Francis Paonessa, Managing Director of Bombardier Transportation UK, said winning the contract 'is a resounding endorsement of our proposed Bombardier Aventra train for Crossrail, which has proudly been designed and developed in the UK as an iconic and world-technology leading train for London'.
Jobs
The tendering process for the largest single contract within the Crossrail project has been managed by promoter Crossrail Ltd on behalf of sponsors DfT and TfL. DfT said the 'overarching aim' was 'to obtain the right train at the best price' and 'it is on this basis that Bombardier has been selected'.
According to DfT the train order will support 760 UK manufacturing jobs plus 80 apprenticeships, and an estimated 74% of contract spend will remain in the UK economy. Bombardier's target is for at least 25% of the value of the contract to go to small and medium-sized companies.
The contract includes maintenance of the fleet. Construction of the depot at Old Oak Common will support 244 jobs plus 16 apprenticeships, and once operational it will support 80 train maintenance jobs.
Crossrail rolling stock and depot contract timeline

December 1 2010
OJEU notice published seeking expressions of interest in a privately-funded train provision contract.
March 30 2011
Alstom Transport, Bombardier Transportation, CAF, Hitachi Rail Europe and Siemens shortlisted.
June 16 2011
In a separate procurement process, a Siemens-led consortium is selected to supply new trains for Thameslink services. These are to be built in Germany. Bombardier subsequently announces job losses and a review of the future of its Derby plant, triggering a political debate about UK public procurement.
July 2011
Alstom withdraws from the Crossrail process.
August 30 2011
Procurement timescale extended, with documents to be issued in 2012 rather than 2011. Crossrail Ltd says this will enable the process to take into account a wider government review of 'whether the UK is making best use of the application of EU procurement rules, as well as the degree to which the government can set out requirements and evaluation criteria with a sharper focus on the UK's strategic interest'.
February 28 2012
Siemens, Bombardier, CAF and Hitachi prequalify to negotiate.
March 1 2013
TfL drops plans to seek private financing for the rolling stock contract.
July 5 2013
Siemens withdraws, citing existing customer commitments.
August 12 2013
Revised bids received from Bombardier, CAF and Hitachi.
December 13 2013
European Investment Bank signs a corporate loan facility providing TfL with up to £500m to finance rolling stock procurement.
February 6 2014
Bombardier is named preferred bidder, with the contract to be signed following a 10-day standstill period.
End 2014
Transport for London to award Crossrail operating contract.
May 2015
Crossrail to take over service between Liverpool Street (mainline platforms) and Shenfield, currently operated by Greater Anglia.
May 2017
New Class 345 EMUs to be introduced on Liverpool Street - Shenfield services
May 2018
Crossrail to take over Heathrow Connect service from Heathrow to Paddington (mainline platforms).
December 2018
Paddington (Crossrail) - Abbey Wood to open as stand-alone service through central London.
May 2019
Start of through service from Paddington (Crossrail) to Shenfield.
December 2019
Full through Crossrail service to begin, including to Maidenhead.