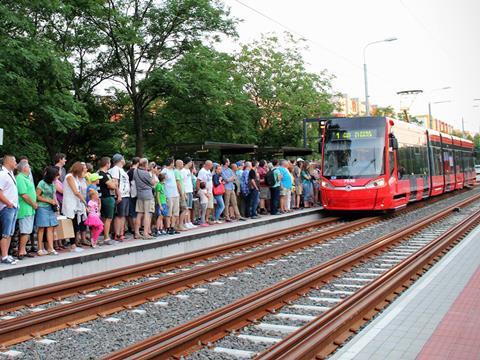 SLOVAKIA: Revenue services on the tramway extension from the centre of Bratislava to the Petržalka district on the right bank of the River Danube began on July 8, following an official opening ceremony on July 5.
The 2·4 km Šafárikovo Námestie - Bosákova route crosses the Danube on the refurbished Old Bridge. It then crosses a motorway on two bridges. There are three stops, and dual gauge tracks have been laid to support plans for the introduction of 1 435 mm gauge suburban light rail services to complement the metre-gauge trams.
The MHD–Starý Most consortium of Eurovia SK, Eurovia CS and SMP CZ began construction of the line in December 2013, and test running began on February 16 2016. EU cohesion funding covered €63m of the €76·8m cost.
A further 4 km extension from Bosákova to Janíkov dvor is planed.