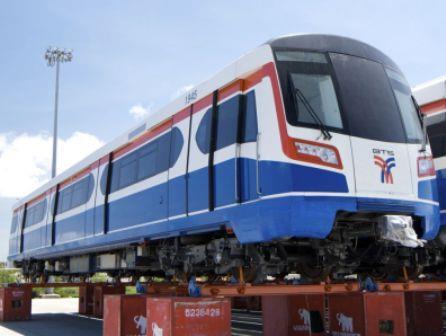 THAILAND: On June 25 Skytrain operator Bangkok Mass Transit System Public Co Ltd (BTSC) marked the arrival of its new fleet of 12 four-car trains from China with a Buddhist blessing ceremony.

The event at Laem Chabang port in Sriracha was hosted by Keeree Kanjanapas, Executive Chairman & CEO of BTSC and chaired by Sukhumbhand Paribatra, Governor of Bangkok. The blessing of train number 1837 was performed by Abbot Prayannadilok.

The 48 cars have been manufactured by CNR Changchun Railway Vehicles Co under a US$70m contract signed in July 2007 (RG 8.07 p468). The first batch of trains was shipped from the Chinese port of Dalian on June 9 and arrived at Laem Chabang on June 19; the remainder were due to arrive by the end of June.

Following four to six months of testing, the trains will be deployed on the Silom Line, allowing the existing fleet of 35 Siemens three-car trains to operate a more frequent service on the Sukhumvit Line. The four-car Changchun trains can carry 1 490 passengers, compared with 1 106 passengers in the existing trains, allowing BTS to ease the congestion at Saphan Taksin caused by 'current technical teething problems'.

Average weekday ridership on Skytrain is now running at around 500 000 journeys, with peaks as high as 570 000 passengers/day. Commercial and residential development along the Skytrain routes has resulted in increased travel demand, so BTSC intends to order a further 35 trailer cars to extend the Siemens trains to four cars (MR 3.10 p6).