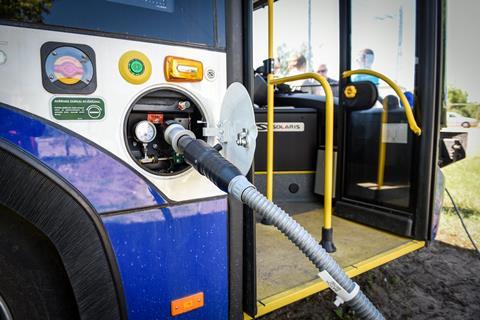 LATVIA: Commissioning of a hydrogen refueling point in early March enabled Riga operator Rīgas Satiksme to begin operating its fleet of 10 Solaris Trollino trolleybuses on fuel-cell power from March 24. Together with diesel trolley hybrids, they have allowed conversion of bus Route 40, the city's second busiest, to trolleybus Route 4 in January.
The 18·75m trolleybuses have dynamically-rechargeable batteries, but range-extending fuel-cells give an off-wire range of up to 150 km from a 10-min refuelling. This is used to cover the 20 km route's 1·6 km and 3·6 km unwired end sections. Weekday service needs 22 vehicles, decreasing to 10 at weekends. The other 12 vehicles used are fitted with conventional auxiliary diesel engines.
The fuel-cell trolleybuses were ordered in 2016 and delivered in 2017, but without a hydrogen refilling point were unable to be use their fuel cells. The filling station and trolleybus fleet are together valued at €16·1m, with 50% EU funding as part of the EU H2Nodes project. It is the first such project in the Baltic countries.