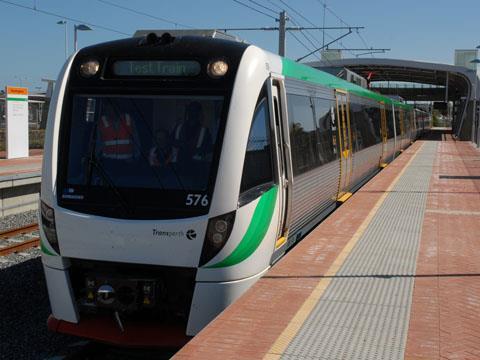 AUSTRALIA: The first scheduled service on the 7∙5 km extension of the Transperth network from Clarkson to Butler departed from Butler station at 11.51 on September 21. Built at a cost of A$221m, the Butler extension has opened 'several months early and A$20m under budget', according to the Government of Western Australia.
Performing the official opening ceremony, Premier of Western Australia Colin Barnett said 'there was nothing much around Butler station other than sand' when work had started in 2011. 'Since then, entire new streets and suburbs, and with them strong communities, have sprung up. We expect more than 2 000 passengers a day will choose to take the 37 min journey to Perth from the new station'.
'The station is fully integrated with multiple feeder bus services, has 900 car bays, is well connected to pathways for people who wish to cycle to the train, and has space for dozens of bikes', said Transport Minister Dean Nalder. 'We expect the new station will take pressure off other stations like Clarkson and Currambine'.
He added that the state government would now focus its attention on the A$2bn link between Forrestfield and the airport 'which will open up a new rail corridor to Perth's eastern foothills'. Construction is due to begin in 2016.