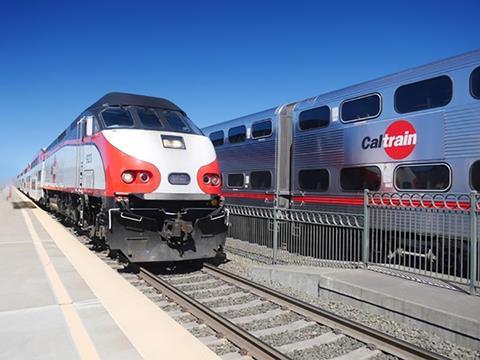 USA: California State Transportation Agency announced on August 16 that it had selected 14 projects out of 41 applications to receive grants this year from its Transit & Intercity Capital Program. Totalling $390m, the grants are to be funded through eight auctions of greenhouse gas emission credits in the 2016-17 and 2017-18 financial years.
Of the 14 awards, 11 are for rail. The largest is an $82m grant to the LOSSAN Rail Corridor Agency towards the $350·3m 'All Aboard: Transforming Southern California Rail Travel' project. This includes extra rolling stock and infrastructure improvements to enable 20 min peak frequencies on San Diego's Coaster corridor, as well as additional Metrolink services to Orange County and Amtrak Pacific Surfliner services between Los Angeles and San Diego. Two Talgo trainsets (a total of 31 cars) are to be leased for five years to operate between Los Angeles and San Luis Obispo, offering reductions in journey times of 25 min.
Los Angeles County Metropolitan Transportation Authority is to receive two grants. $69·2m is going towards the $162m project to increase capacity of the metro station Union Station to 30 trains/h per direction, reducing headways on the Red and Purple lines from 10 min to 4 min by 2023. Another $40m will support the construction of an interchange between the Los Angeles International Airport peoplemover and the light rail network.
San Bernardino Associated Governments is in line for $9·2m towards the $265·3m Redlands Passenger Rail Project. Construction of the line between the University of Redlands and San Bernardino is due to begin next year, and is being undertaken in partnership with OmniTrans, Metrolink, Esri Corp, the University of Redlands, the City of Redlands, the City of San Bernardino and BNSF Railway.
Two more grants would cover the construction of new streetcar routes. A 19-stop route linking Sacramento and West Sacramento would receive $30m, covering one-fifth of the total project cost, which includes the purchase of six vehicles. Most of the $28m grant towards Orange County Transportation Authority is contingent on receipt of a federal New Starts Full Funding Grant Agreement, expected by early 2017. This money would go towards the 6·7 km Orange County Streetcar connecting Santa Ana and Garden Grove, as well as the implementation of mobile ticketing.
A grant of $45·1m would cover most of the cost of procuring 10 light rail vehicles for San Francisco's Muni network. The BART Silicon Valley Phase II Extension is to receive $20m, which is contingent on a the introduction of local funding this year.
The Caltrain electrification project, including the purchase of 16 electric multiple-units, will receive $20m if a federal Core Capacity Full Funding Grant Agreement is signed.
A capacity improvement programme including platform lengthening at five Altamont Corridor Express stations to accommodate eight-car trains and the purchase of a Tier 4-compliant locomotive is to receive $16·5m.
Capitol Corridor Joint Powers Authority will receive $9m for track and power upgrades to enable an extra two Amtrak return journeys per day to run between Sacramento and Roseville. This includes the construction of nearly 13 km of third track and a new bridge near Roseville.