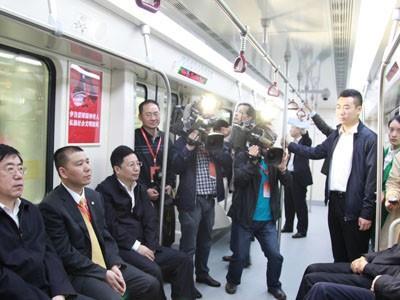 CHINA: The first metro line in Changsha opened on April 29, making the capital of Hunan province the 19th city in mainland China with a metro.
The first phase of Line 2 is 22·3 km long with 19 stations. Starting at Wangchengpo in the west, it runs across the Xiangjiang River to Wuyi Square, where there will be an interchange with the future Line 1, and Changsha's main railway station. It then heads south to Changsha South station and terminates at Guangda. Construction of the line started in 2009 and cost 12·1bn yuan.
The north-south Line 1, running from North Coach Terminal to Shangshuangtang, has been under construction since 2010 and is due to open this year. The 23·6 km, 20-station route has a construction budget of 14·2bn yuan.
The city authorities plan to build four more lines in the next 25 years, as well as a western extension of Line 2 and a northern extension of Line 1. A 16·5 km maglev link between Changsha South station and the airport is also planned, at a cost of €400m; this is due to open in 2016.