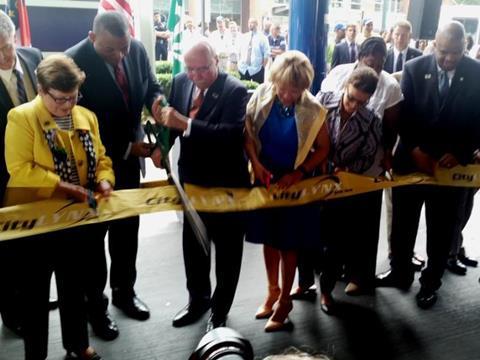 USA: The CityLYNX Gold Line tram route in Charlotte opened for passenger service at 13.00 on July 14.
The 2·4 km line runs on-street from Time Warner Cable Arena to Novant Health Presbyterian Medical Center with six stops. There are services every 15 min in the peaks and 20 min off-peak, from 06.00 to 23.00 on weekdays (midnight on Fridays), 08.00 to midnight on Saturdays and 09.00 to 19.00 on Sundays. Travel is free.
Construction began in December 2012 and cost $37m. Of this, almost $25m came from the Federal Transit Administration's Urban Circulator programme, and the remainder from the city.
Phase 2 would extend the route at both ends by a total of 4 km, to French Street in the west and to Sunnyside Avenue in the east, with 11 stops, at an estimated cost is $150m. The city plans to replace the replica heritage vehicles with modern cars when the second phase opens.
Construction of Phase 2 is scheduled to begin late 2016, with passenger service starting in late 2019. Subsequent construction could eventually bring the Gold Line to 16 km in length.