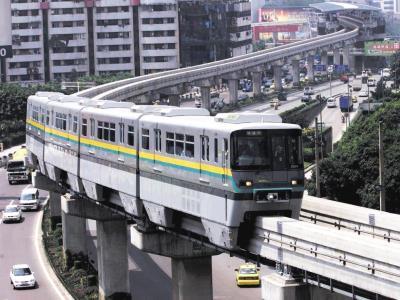 CHINA: Chongqing Rail Transit has begun trial operations on its first conventional metro and second straddle monorail lines, expanding the city's urban rail network. The first route to be completed was Line 2, which opened in 2005 using straddle monorail technology from Hitachi.
Monorail Line 3 services began running at 14.00 on September 29, with trains operating every 8 min from 07.30 to 20.30. The initial section of the line runs for 17·3 km from Lianglukou to Yuanyang with 15 stations. The line will be fully opened by the end of the year, taking it to 39·1 km and 29 stations. Construction began in April 2007, and trial running without passengers began on June 18 this year. The total cost is put at 13·8bn yuan.
Limited services began on July 28 on the initial Shapingba – Jiaochangkou section of conventional underground metro Line 1, which will eventually run for 16·4 km with 14 stations.
CRT is currently reviewing an expansion plan commissioned from Shanghai Tunnel Engineering Rail Transit Design & Research Institute which envisages the construction of a further 295·7 km of metro lines or monorails with 154 stations during 2012-20.
CRT has signed a 15-year agreement granting JC Decaux exclusive rights to manage outdoor advertising on the network.