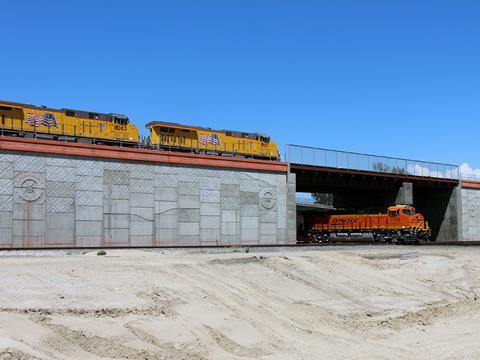 USA: The Colton Crossing grade separation project to remove a flat crossing between north-south BNSF and east-west Union Pacific tracks in southern California has been completed 'significantly under budget and ahead of schedule', state transport agency Caltrans and San Bernardino Associated Governments announced on August 26.
Skanska was lead contractor for the construction of the 2·2 km flyover which now carries UP trains above the BNSF tracks, removing a major cause of congestion on freight, Metrolink commuter and Amtrak routes.
The project was undertaken through a partnership between Caltrans, SBAG, the city of Colton, UP and BNSF. It was originally estimated to cost $202m and be finished in 2014, but the use of 'innovative construction methods' including cellular concrete embankments as well as the low bid prices received in a competitive marketplace meant the project was completed eight months ahead of schedule and at a cost of $93m.
Funding came from state and federal sources, including $34m from American Recovery & Reinvestment Act stimulus funds and $41m from a 2006 transport bond, with contributions from UP and BNSF.
'Not only will this project improve safety and reliability for passenger and freight trains, it will also improve air quality and reduce congestion on the streets and highways', said Caltrans Director Malcolm Dougherty. The project is estimated to produce travel time saving valued at $241m and reduce greenhouse gas emissions by 31 000 tonnes annually.