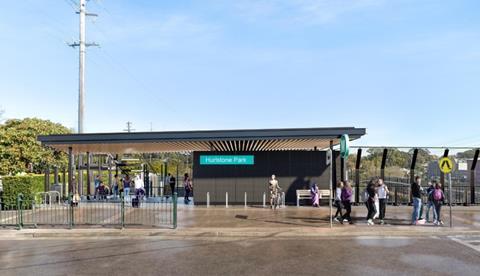 AUSTRALIA: Contracts have been awarded for the upgrading of 13 km of Sydney's T3 Bankstown Line commuter route between Sydenham and Bankstown to metro standards as part of the Metro City & Southwest project.
John Holland and Laing O'Rourke Australia Construction have been awarded an A$227m contract covering the upgrading of 15 bridges with the installation of safety screens; works on retaining walls, culverts and drainage; fencing; segregation of the existing freight line from the new driverless metro tracks; installation of railway systems including crossovers, upgrading and refurbishing overhead wiring and work to support signalling and communication equipment; and utility modifications.
A separate A$98m contract has been awarded for Downer EDI Works to modernise Hurlstone Park, Belmore and Wiley Park stations. This will include altering the platforms to provide level access to metro trains; installing lifts at Hurlstone Park and Wiley Park; accessible toilets at Hurlstone Park and Wiley Park; new service buildings and cabling; painting, lighting, tiling and paving works; enhancements to security fencing including the installation of anti-throw screens on overbridges; and cycle parking, taxi spaces, kiss-and-ride and accessible parking facilities. The stations will also be prepared for the installation of platform screen doors.
A joint venture of Haslin Constructions and Stephen Edwards Constructions has been awarded a A$97m contract covering similar works at Marrickville, Canterbury and Lakemba stations.
The line will remain open during the majority of construction, with major works planned to take place during a closure from June 28 to July 11.
Metro services on the upgraded line are scheduled to start in 2024, with a peak service of 15 trains/direction/h, up from four trains an hour at some stations at present.