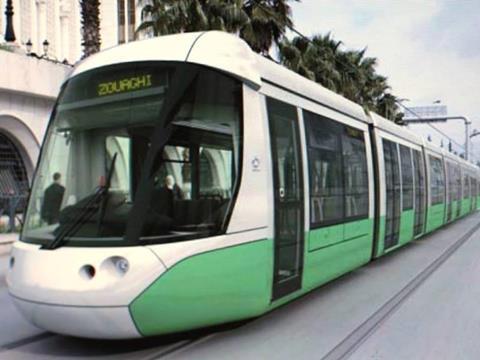 ALGERIA: The Constantine tramway was officially opened by Transport Minister Amar Tou and Wali of Constantine Noureddine Bedoui on July 4, with regular services starting the following day.
The 8·1 km line runs from Benabdelmalek to Zouaghi, with 10 stops. Ridership is predicted to be 70 000 passengers/day, with services running from 5.00 to 23.00.
Studies for the line were undertaken in 2006, and construction commenced in 2007. A turnkey contract was awarded to Pizzarotti and Alstom, which has supplied 27 Citadis trams. The total cost of the project is estimated at 44bn dinars.
The line is operated and maintained by the Setram joint venture of RATP Dev, Entreprise Metro d'Alger and Etablissement Public de Transport Urbain & Suburbain d'Alger under a 10-year contract.
Constantine is the third Algerian city with a modern tramway, after Alger and Oran. There are plans for 13 more.