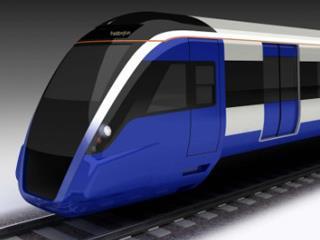 UK: The timescale for procurement of around 60 electric multiple-units for London's Crossrail project has been extended, promoter Crossrail Ltd announced on August 30.
This should align deliveries with the tunnel construction timetable and allow the conclusions of a government review of public procurement to be taken into account in the tendering process.
Tender documents were to be issued later this year, but will now be issued in 2012, with the contract to be awarded in 2014. The entry of the new trains into service on the route to Shenfield to the east of London has been put back from December 2016 to from May 2017, with Crossrail services commencing through the central tunnels in late 2018. This reduces the period during which vehicles would be stored pending completion of the tunnels under central London, bringing 'significant' savings because Transport for London would be paying for the trainsets as soon as they were made available for service.
Delaying tendering will also enable the process to take into account the conclusions of the government's ongoing Growth Review. This has been asked to look at public procurement policy following the selection of Siemens as preferred bidder for the Thameslink rolling stock contract, and the announcement by unsuccessful bidder Bombardier of significant job losses at the UK's only passenger rolling stock manufacturing plant in Derby.
Crossrail Ltd said the Growth Review will examine 'whether the UK is making best use of the application of EU procurement rules, as well as the degree to which the government can set out requirements and evaluation criteria with a sharper focus on the UK's strategic interest'. It will also consider 'how the government can support businesses and ensure that when they compete for work they are doing it on an equal footing with their competitors.'
On March 30 Crossrail Ltd has announced that Alstom Transport, Bombardier Transportation (UK) Ltd, CAF, Hitachi Rail Europe Ltd and Siemens plc had prequalified to bid for the £1bn train and depot contract. Alstom subsequently withdrew. According to Crossrail Ltd 'a revolutionary new train design is not required', and instead it is seeking a fleet 'based upon technology already developed by the worldwide rolling stock market for deployment on other railways'