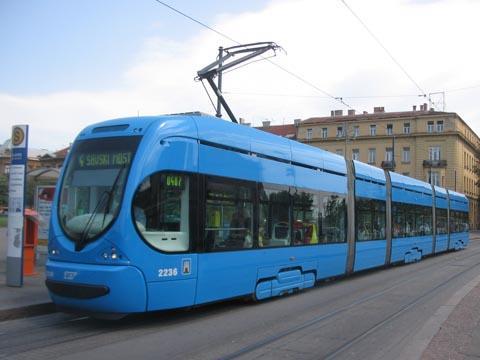 EUROPE: The Crotram partnership of TZV Gredelj and Koncar expects to begin demonstrating a Zagreb TMK 2200 tram in Sofia shortly, having determined that the metre-gauge car will require minimal adaptation for use on the Bulgarian city's 1 009 mm gauge lines.
Trials in Helsinki earlier this year found that the 32 m Zagreb design was too long for the Finnish capital, and so Crotram is now planning to develop a shorter model to offer to potential customers. A standard-gauge version is also on the drawing board. A lower specification and lower cost option is also planned, with an eye on the potential market in southeast Europe.
Talks are being held with Sarajevo transport operator GRAS, which has suffered from a shortage of skilled staff and would like to acquire a standardised tram fleet to replace its disparate collection of ageing cars. Last month the Czech government signed an agreement to provide GRAS with spares and technical assistance worth €1·5m.
A TMK 2200 tram was exhibited at InnoTrans, and it is hoped that the standard-gauge version will appear at the event in 2010.