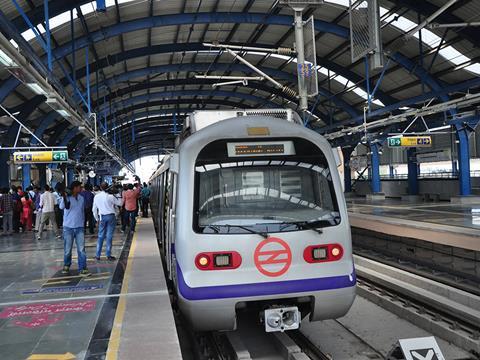 INDIA: Delhi Metro Rail Corp has increased the number of trains operated and deployed extra staff to cope with the additional ridership resulting from the National Capital Territory government's imposition of restrictions on the use of cars in the city.
The restrictions intended to reduce pollution are in force for a trial period from January 1 to January 15. Cars with even number plates can only be used on even-numbered dates, and odd-numbered cars on odd dates.
DMRC expects to run a total of 3 192 services during the two weeks, compared to 2 827 during the same period in 2015. This will require 198 trainsets to be in service each day, which DMRC said is the maximum possible with 'only the essential maintenance reserve' being out of service.
Additional staff have been deployed to guide passengers and handle the increased demand for tickets, while the control room is monitoring the network to ensure that crowds do not build up at ticket sales points and security checkpoints.
The highest daily ridership recorded on the metro was on August 28 2015, when 196 trainsets were in service and carried more than 3·2 million passengers.
DMRC and RailTel began the roll-out of Metro-Fi wi-fi at Rajiv Chowk and Kashmere Gate stations on January 1, with Vishwavidyalaya, Central Secretariat and Hauz Khas to follow. The first 30 min per day is free.