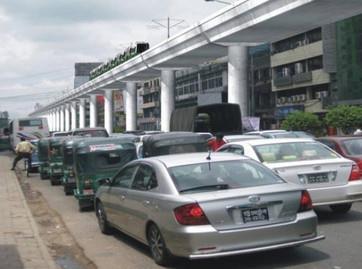 BANGLADESH: Prime Minister Sheikh Hasina officially inaugurated construction of the first metro line in Dhaka on June 26 at a ceremony also attended by Minister for Road Transport & Bridges Obaidul Quader and Japanese Ambassador Masato Watanabe.
Hasina had previously laid the foundation stone for Line 6 on October 31 at 2013. Work is split into six civils and two railway systems packages. The project is being managed by the Communications Ministry's Dhaka Transport Co-ordination Authority, and a consortium of Nippon Koei, Delhi Metro Rail Corp, Mott Macdonald and Development Design Consultants is acting as general consultant. Services would be operated by Dhaka Mass Transit Co.
The government is providing 53·9bn taka of the 219·85bn taka project cost, with the remainder coming from JICA under a 40-year soft loan agreement signed in 2013. JICA expects to disburse the first quarter of the loan this year.
The 20 km elevated north-south route will link Uttara North and Motijheel. There would be a depot beyond Uttara North at the northern end of the line. The line would be overhead electrified at 1·5 kV DC and all 16 stations would have platform edge doors.
A fleet of 24 six-car trainsets is to be procured; bids were due by June 15. The rolling stock would have a maximum speed of 100 km/h, giving an end-to-end journey time of 38 min. Peak headways of 5 min are envisaged.
Trial operation on the northern part of the route is expected by the end of 2019, with the full line open in 2024. Ridership is forecast at 483 000 passengers per day in 2021, rising to 1·3 million in 2051.
Line 6 is the first of three planned lines. A feasibility studies for lines 1 and 5 is currently underway.