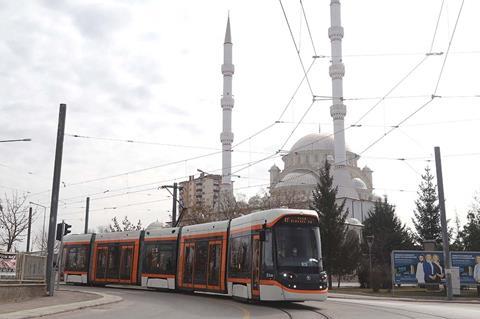 TURKEY: An extension of Eskişehir tram Line 13 from Şehir Hastanesi to Sultandere and 75 Yil District opened on March 12, taking the metre-gauge Estram network to a total of 45 km.
The intial section of Line 13 between Opera and Şehir Hastanesi opened in 2019, but completion of the extension was delayed owing to a combination of the Covid-19 pandemic and financing issues caused by the depreciation of the Lira, Mayor Yılmaz Büyükerşen said.
The city plans to open a further extension to Kumlubel from Opera at the other end of Line 13 'as soon as possible', he said. This would take the network to 55 km.
Future plans including extending the line further into north to the Eskişehir Technical University Campus and on to the outer suburbs.