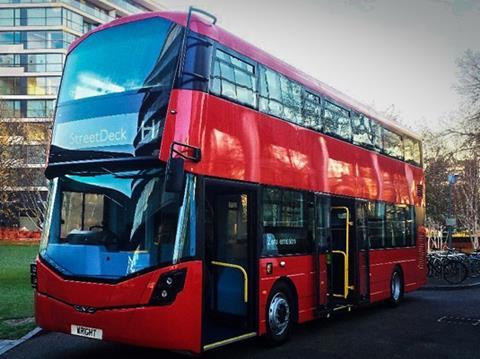 UK: Ballard Power Systems has won an order to supply fuel cell modules for 15 buses that Wrightbus is supplying to Aberdeen, Ballard announced on July 23.
The FCveloCity-HD 85 kW modules due to be delivered by the end of the year will power double-deck StreetDeck buses. The 10·9 m long vehicles with capacity for 64 passengers are due to be in service by the end of 2020 and will be operated by First Aberdeen. According to Ballard, the fuel cells can be refuelled in less than 10 min.
The project is funded by Aberdeen City Council, the Scottish government and the EU's Fuel Cells & Hydrogen Joint Undertaking under the Joint Initiative For Hydrogen Vehicles Across Europe programme.
The six-year JIVE project aims to help with the commercialisation of fuel cell buses by addressing their higher costs relative to diesel buses, as well as availability levels and the development of reliable and low-cost refuelling infrastructure. JIVE targets a total deployment of 291 fuel cell buses across Europe.
Ballard has so far received orders for a total of 80 fuel cell modules under the JIVE programme. Its earlier-generation modules have been powering a fleet of 10 buses for Aberdeen City Council over the past several years.