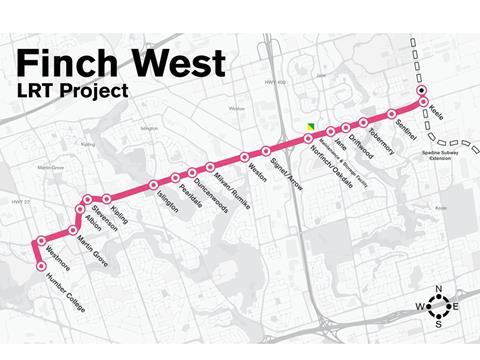 CANADA: Infrastructure Ontario and Toronto regional transport agency Metrolinx have issued requests for proposals to the three consortia which have been shortlisted for the contract to design, build, finance and maintain the Finch West Light Rail Transit project.
Proposals are to be submitted later this year. IO envisages that preliminary construction works will begin in 2016, with major works to start following financial close in 2017. Completion is planned for 2021.
The line would run on an 11 km segregated alignment between underground termini at Humber College and the future Finch West station on the Toronto-York Spadina subway extension. There would be 16 intermediate stops at ground level, plus a depot.
The project is to be undertaken using IO's Alternative Financing & Procurement model, which is intended to transfer 'appropriate' design, construction, financing and maintenance risks to the private sector. The line would be publicly owned, and services will be operated by Toronto Transit Commission.
'Finch West LRT line will help create jobs and transform priority neighbourhoods along Finch Avenue West into vibrant communities accessible to motorists, transit riders, cyclists and pedestrians alike', said Minister of Transportation Steven Del Duca. 'The LRT service will move more people, faster than bus service today, through the busy Finch West corridor. It will also provide interregional connects through GO Transit bus services, as well as Mississauga and Brampton local bus services at Humber College.'
Finch West LRT shortlisted consortia
Consortium
Humber Valley Transit Partners
Mosaic Transit Group
FACT Partners
Developers
SNC-Lavalin, Graham
ACS, Aecon, CRH
EllisDon, Bechtel
Contractors
SNC-Lavalin, Graham
ACS, Aecon, CRH
EllisDon, Bechtel
Service providers
SNC-Lavalin, ACI
ACS, Aecon, CRH
EllisDon, Bechtel, Herzog Transit
Financial advisors
National Bank, Scotia Capital
RBC Capital Markets
EllisDon Capital