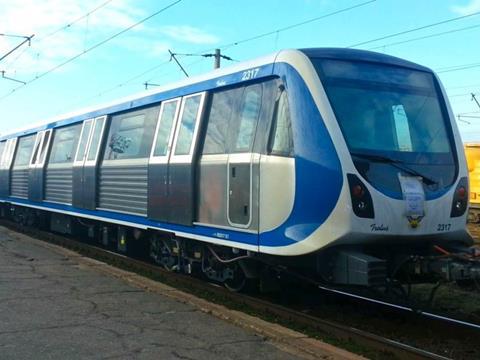 ROMANIA: CAF has delivered the first of eight trainsets that it is supplying for metro Line M5 in București. The train was transported by Rail Cargo Group and arrived on December 18, one month earlier than stipulated in the contract with CAF.
Metro operator Metrorex exercised an option in November 2014 for CAF to supply eight six-car trainsets similar to those that have been in service on Line M2 since July 2014. The €47m order is financed with European Investment Bank funds.
The stainless steel through-gangwayed train is 114 m long with capacity for 1 200 passengers. It consists of four motor cars and two trailer cars.
The first phase of Line M5 would connect Eroilor with Drumul Taberei on a 6·2 km east-west alignment. It is currently just under 80% complete and is due to open by the end of 2016.
A detailed feature article on the București metro appears in the September 2015 issue of Metro Report International, available to subscribers in our digital archive.