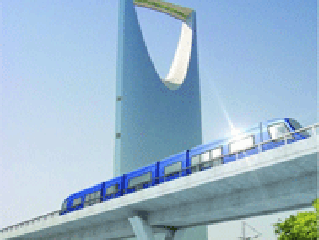 SAUDI ARABIA: Four international consortia have prequalified for a contract to build a metro network in Riyadh, the High Commission for the Development of Arriyadh announced on August 1.
Bids were submitted by a total of 38 consortia. The shortlisted groups now have four months to submit their financial and technical bids.
Six lines totalling 175 km are planned as the backbone of the Saudi capital's public transport system, serving the city centre, government facilities, universities, commercial areas, King Khalid International Airport and the King Abdullah financial district.
Riyadh Metro prequalified consortia
Vinci Construction with Siemens, AECOM and local firms Almabani General Contractors and Consolidated Contractors Co.
Bombardier with Yapi Merkezi Insaat, OHL, GS Engineering & Construction, Serco, Mott Macdonald, Parsons Brinckerhoff Arabia and local firms Al Rajhi Holding Group, Al Arrab Contracting Co, Shibh Al Jazira Contracting and Freyssinet Saudi Arabia.
FCC Construcción, Alstom, Samsung C&T, Alpine, Strukton Civiel Projecten, SETEC, TYPSA.
Strabag with Ansaldo STS, AnsaldoBreda, Stadler Bussnang, Besix, Larsen & Toubro, Hyder Consulting, Worley Parsons, IDOM and local company MASCO.
Planned Riyadh metro network
Line
Route
Length, km
1 Blue
Olaya Street - Batha Street - Al Hayer Road
39
2 Green
King Abdullah Road
25
3 Red
Madina Al Munawra - Amir Saad bin Abdul - Rahman Al Awal Road
40
4 Orange
King Abdullah Finance District - King Khaled International Airport
30
5 Yellow
King Abdul Aziz Road
13
6 Purple
Abdul Rahman bin Ouf Street - Shaikh Hassan bin Hussain bin Ali Street
30