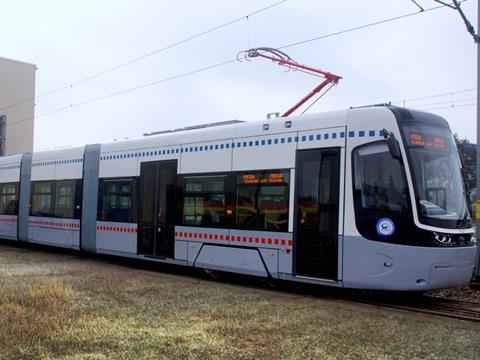 RUSSIA: Pesa revealed its first tram for Moscow on February 21. The new 1 524 mm gauge low-floor tram is branded Foxtrot, and will be delivered to the Russian capital next month.
Moscow ordered 120 trams from Pesa in co-operation with Uraltransmash in June 2013, with deliveries to take place between March 2014 and March 2015. All the vehicles will be produced in Poland.
'The new trams fully meet the demands that we make of rolling stock supplied to Moscow. The capital's residents will appreciate the quality of the new trams', said Yevgeny Mikhailov, General Director of tram operator Mosgotrans.
The air-conditioned tram is designed to operate in temperatures between -40°C and 40°C. It is 26 m long with capacity for 160 passengers, including 60 seated. Maximum speed is 75 km/h.