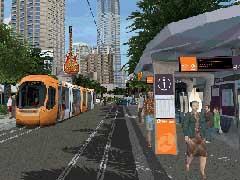 AUSTRALIA: The preliminary business case for the Gold Coast Rapid Transit project has recommended light rail in preference to bus rapid transit, John Mickel, Queensland's Minister for Transport, Trade, Employment & Industrial Relations, announced on August 22.
Light rail offers 'greater capacity, reliability, and a longer lifespan than buses to cope with future growth.'
Mickel said the state and city governments will begin discussions with potential private sector partners in October. 'Up until now, the private sector could not realistically begin planning their bids but with the certainty of the business case these companies can now get to work designing their bids.'
The project will be developed in phases, starting with Griffith University to Broadbeach. Public consultation will be undertaken in October and November, the final decision to go ahead will be taken in the first half of 2009, and construction is planned to begin in 2010.