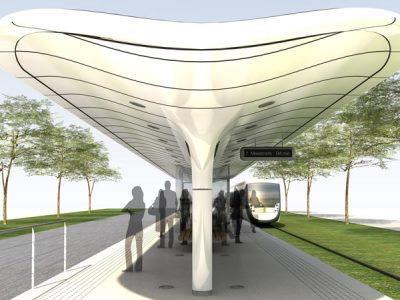 BELGIUM: Flanders Transport Minister Hilde Crevits signed an agreement with Limburg province in the Netherlands on March 11 to push ahead with construction of a fast tram line between Hasselt in Belgium and Maastricht in the Netherlands.
The 32 km Spartacus line would partly use the alignment of Infrabel's disused Line 20. There would be 10 stops in Belgium, including Diepenbeek, Beverst, Bilzen and Lanaken, before the route crosses the border to Boschpoort. There would be three stops on the Dutch side, where the trams will run into the centre of Maastricht.
A decision in principle for construction was taken in late 2011, with Maastricht City Council agreeing in December 2012 to permit construction on its territory. In October 2013 the Flemish government gave its final approval for construction, with Maastricht City Council approving the Dutch section in February 2014. The co-operation agreement is the last step before a PPP contract can be awarded for construction of the route.
Work is scheduled to start in early 2015 and take three years. The Flemish government is to invest €217m in construction of the Belgian part of the line, cycle paths and a new depot, as well as rolling stock procurement. A further €66·4m would come from the Dutch authorities.
Services are expected to being operating in January 2018, and would be run by the Flemish public transport operator De Lijn. The operator would pay €400 000 a year for the use of the infrastructure. A fleet of 18 trams would run at half-hourly intervals, replacing two half-hourly bus services; the end-to-end journey time would be 30 min.
The project is part of the Flemish government's target for 40% of journeys in the region to be made by public transport, bicycle and foot by 2030.