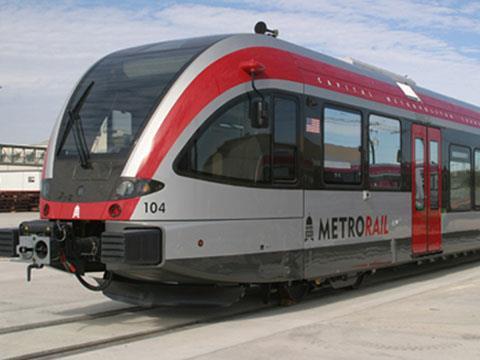 USA: Capital Metro announced on December 9 that it was terminating the six-year contract under which Veolia was to have operated the Capital MetroRail passenger service which will link Leander with Austin from early 2010.
A replacement five-year operations and maintenance contract worth up to $61m has been awarded to Herzog Transit Services, which currently operates the Trinity Railway Express, Rail Runner, Altamont Commuter Express and Coaster passenger services in the USA.
Capital Metro said Veolia had wanted changes to the May 2007 contract terms which the authority felt would have exposed it to additional costs and risks. As a result the authority made the decision to award a new contract 'to ensure the timely completion of the MetroRail project and a successful launch of the system, and to meet existing freight obligations.'
Capital MetroRail services are expected to start by March 30, using six Stadler GTW DMUs on 51 km of existing freight tracks. Passenger services between the nine stations on this Red Line will be restricted to weekday peaks, providing temporal separation from freight trains.
A $34m contract for freight services has been awarded to short line operator Watco, whose Austin Western Railroad subsidiary has operated freight services on the route as a subcontractor to Veolia since October 2007.