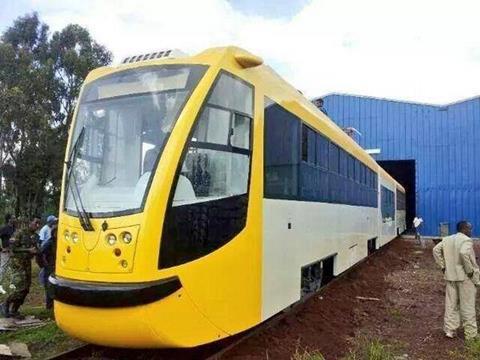 ETHIOPIA: A prototype tram for the African market has been delivered to Addis Ababa by Hungarian company Dunai Repülőgépgyár.
DR intends to carry out series production in Ethiopia using Hungarian components, and is in talks with Ethiopian state-owned Metals & Engineering Corp about constructing a test track. It is also negotiating financing with the Commercial Bank of Ethiopia. Meanwhile, the prototype is being kept at Metals & Engineering Corp's site.
The prototype was originally built in 2010 and intended for use in Szeged. The two end sections are rebuilt ex-Rostock Tatra B6 cars, with a low-floor middle section added. Styling is by Artifex Stúdió.
The 35% low-floor tram is 33·8 m long and weighs 63·4 tonnes. It has 50 seats, with a total capacity of 233 passengers at 5/m2 or 278 passengers at 8/m2. There are eight axles, each driven by a 90 kW motor, giving a maximum speed of 70 km/h. The tram is equipped with regenerative braking and vehicle control software.
DR has sent staff to Addis Ababa to co-ordinate production and train local workers. It intends to launch similar projects in other African countries, following an announcement from the Hungarian government that Kenya has shown interest in the vehicle.
The first light rail line in Addis Ababa, which opened for revenue service on September 20, uses a fleet of 41 three-section 70% low-floor trams supplied by CNR Changchun.