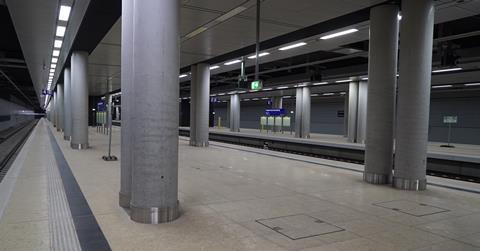 GERMANY: Rail services to the new Berlin-Brandenburg International airport will begin when the airport finally opens on October 31 2020, DB's representative for Berlin Alexander Kaczmarek confirmed on December 2.
'We had already completed our tracks and platform facilities in time for the originally scheduled date in October 2011, and will be ready when the flight operations begin', he explained.
Built at a cost of €675m, including the connecting lines, the six-platform airport station will be served by direct regional trains from the city centre and an extension of S-Bahn route S9 from the existing Schönefeld airport.
Regional and long-distance trains will use an 18·5 km new line connecting the Berlin – Dresden main line with the capital's orbital outer ring. The 8·6 km S-Bahn extension includes one new intermediate station.
A dedicated Airport Express service will link the new station to Berlin Hbf in 35 min, with journey times expected to be cut to 20 min following the renovation and resignalling of the Dresdner Bahn main line. S-Bahn journey time is expected to be 51 min. The two rail services are predicted to carry around 125 000 passengers per day.
Kaczmarek pointed out that the new railway facilities have been maintained in working order since 2011, with occasional trains running to ensure safe operation and ventilate the tunnel sections. Signalling in the airport station has already been modified to accommodate the operation of longer or shorter trains, and further signalling changes are anticipated to boost capacity. Train control systems on the S9 airport branch are also being replaced.