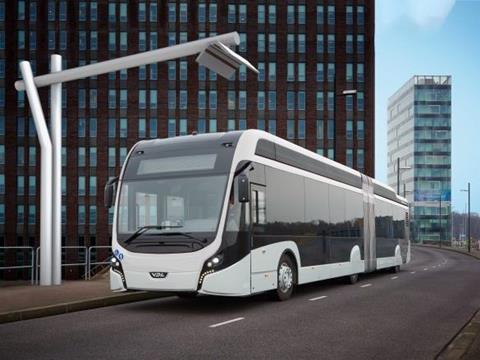 NETHERLANDS: Transdev subsidiary Connexxion has awarded Heliox a contract to supply electric bus charging infrastructure for a fleet of 100 electric buses that are to be put in service in Amsterdam by 2018.
Last month VDL announced that it is to supply 100 Citeas SLFA Electric 18 m long articulated buses to Connexxion in its largest ever order for electric buses. The order also includes 18 Futuras FDD2 double-decker diesel buses. The electric buses will be fitted with Schunk pantographs that will be used for charging the buses through overhead masts at depots and opportunity charging stations.
Heliox will supply 30 kW depot charging stations to the Amstelveen and Schiphol depots. The Amstelveen depot will have 42 depot charging stations for overnight charging, in addition to eight 450 kW opportunity charging stations for charges of up to 4 min. The Schiphol depot is to have 44 depot charging stations and seven opportunity charging stations.
The Schiphol Parking North and Schiphol Parking P30 bus route termini will each receive four opportunity charging stations.
In addition to the 13 MW charging infrastructure, Heliox will supply substations and switchgear, and be responsible for the civil works, installation and maintenance.