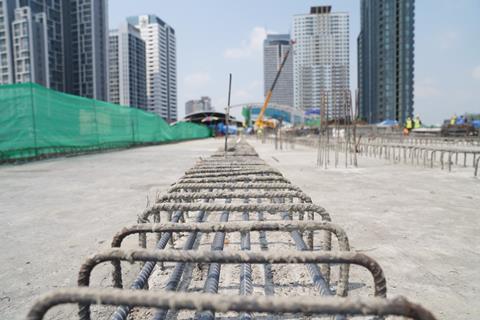 THAILAND: System integrator AMR Asia has awarded Teltronic a contract to supply TETRA mission-critical radio communications for the Gold Line automated peoplemover which is under constriction in Bangkok.
The 2·7 km first phase of the Gold Line will connect the existing BTS Green (Silom) Line Skytrain station at Krung Thon Buri with residential and commercial property developments. There will be three stations, with Charoen Nakhon serving the Iconsiam shopping and mixed-use development and Khlong San for the Taksin Hospital.
Opening is planned for 2021, and ridership is predicted at 47 000 passenger per day.
A proposed second phase would extend the route to the Phra Pok Klao and Memorial bridges.
Bombardier is to supply Innovia 300 peoplemover cars and Cityflo 650 control systems for the Gold Line. ST Engineering is to supply the automatic fare collection system.
Teltronic's contract announced on May 13 covers the supply of a high capacity switching control node, site base stations providing full voice and data coverage along the line, SC20 handheld terminals and desktop units to manage the system from the control centre.
'This project brings to light, one more time, the versatility and reliability of TETRA in transport environments, and the bright future that lies ahead for this technology.', said Teltronic's Transport Business Development Director Felipe Sanjuán. 'While other radio technologies are announcing end of life in coming years, TETRA is a solid technology that will be there for many years to come.'
APAC Regional Director Josep Jonch added that Thailand was 'a key country' for Teltronic, with 'a strong growth potential led by a good number of new railway projects'.